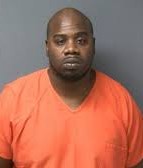 The Columbia County District Attorney files charges against a 34-year-old Janesville man in connection with the shooting death of a Janesville woman in Wisconsin Dells on Valentines Day.
According to a news release from the Department of Justice, officers were called to a hotel room to check on the welfare of two people just after 11:30 a.m. on Sunday and Jeremy Lee Mondy answered the door and indicated that he was okay but that a woman was deceased.
Mondy is currently being held in the Columbia County Jail on a $5 million cash bond.
The gun police believe Mondy used to shoot the woman was disposed of in the area and has not been recovered.