Bud Light Seltzer Flavor of the Day!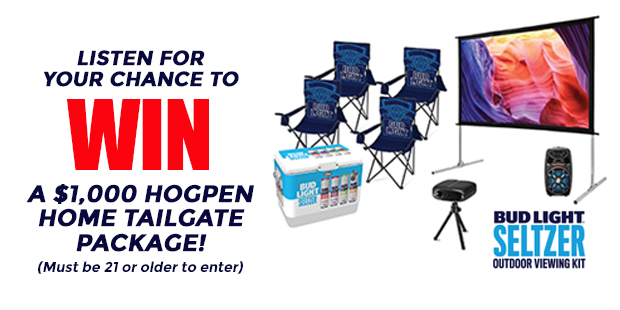 Bud Light Seltzer and 105.9 The Hog are teaming up to give you a chance to win your own home Hog Pen tailgate package so you can enjoy weekend game-day tailgates in your own back yard! The tailgate package (valued at $1,000) includes an outdoor projection screen, projector, Bluetooth tailgate speaker, a cooler full of Bud Light Seltzer, and four tailgate chairs.
To enter (starting October 19 through October 29th), tune in every weekday at 8a, 12p, and 5p to hear the Bud Light Seltzer Flavor of the Day, then fill out the form below with the correct flavor for the day selected. You can enter once per day, only correct flavors will be eligible. The more days you enter the correct flavor, the better your chance to win!
Hog Head VIP Club Member Benefit! Club members will get the flavor of the day emailed to their inbox each day, SIGN UP NOW!
One lucky winner will be drawn on Friday, October 30th.