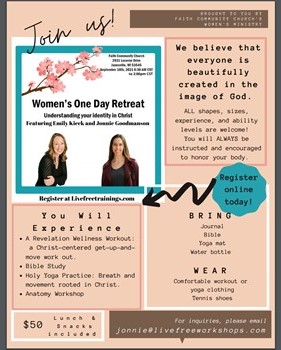 In this one day retreat you will get: A Revelation Wellness workout, Bible study, Holy Yoga practice and Anatomy workshop. Snacks and Lunch provided.
As your instructors Jonnie and Emily both believe that we are created in the image of God, and that we are amazing new creations in Him. Therefore, ALL shapes and sizes of physical bodies, and ALL experience and ability levels are welcome to participate in both Revelation Wellness and Holy Yoga portions of this retreat. You will ALWAYS be instructed and encouraged to honor your body exactly where the Lord has you!
What to bring: Journal and Bible; wear comfortable workout/yoga clothing, tennis shoes, yoga mat, water bottle.
Cost is $50 and includes snacks and lunch
For more information on Revelation Wellness and to register go to livefreetrainings.com