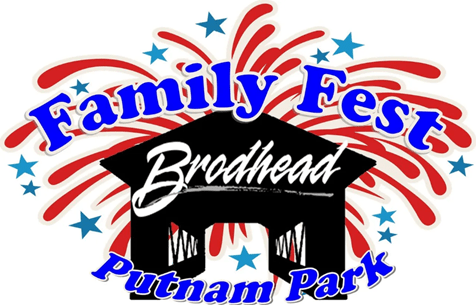 Make plans to visit Brodhead on Saturday, June 25, 2022 for an old-fashioned family festival at Putnam Park. Similar to last year, we are excited to announce that we are planning a fun, family-friendly, FREE community event with a patriotic Independence Day parade, DJ, live music, kids games, food, non-alcoholic drinks & fireworks to top off the night! We're kicking off the day with our Annual Independence Day Parade at 11am.
Schedule of Events
Independence Day Parade 11am
Food Stands Noon – Dark
Brodhead Sports Boosters-Chicken BBQ-5pm
Noon – 2pm
Vanessa Weeden Photography
Geode Treasure Hunt
Acrolab
Noon – 4pm
Balloon Entertainer
Excel Ta Kwon Do
Kobussen – Kids Games
Noon – 6pm
Dunk Tank
Better Brodhead Booth – Frog Toss Game
Noon – 8pm
Kids Activites/Face Painting
Entertainment
Live DJ and Radio Broadcast – All Day
Community Band 1:30 – 2:30
David Landau – The King of Kids' Music 3:00-3:45pm
FREE Concert Featuring Stateline Playboys! 6 – 8pm
Salute to our Veterans at 8:30pm
FIREWORKS at Dark!